Feb 6, 2013
Comments Off

on 911 Call Released-'American Sniper' Killer's Sister "Terrified" After He Confessed Killings
littlebytes
ABC has a copy of the 911 call of Routh's sister. In the call she told police she was "terrified for her life" when he showed up at her house and told her what he had done.
In a tape of the 911 call Laura Blevins made to the Midlothian Police Department Saturday evening, her voice quivers and shakes as she says Routh showed up at her home in a pickup truck she had never seen before.

"He told me that he has committed a murder," she said. "And I am terrified for my life … Because I don't know if he's going to come back here.

"Now, listen … I don't know if he's being honest with me," she said. "I'm just really terrified."
Listen to the Tape of the 911 Call

The 911 operator suggested that Blevins and her family come to the police station, which was nearby, and told her to stay on the phone as they made the trip.

"OK, that would be great because I'm really scared," Blevins said.

When the 911 operator asked Blevins whether Routh told her who he had killed, she said: "He said he killed two guys; they went out to a shooting range. Like he's all crazy. He's f—ing psychotic. I'm sorry for my language. I don't know if he's on drugs or not."

As they were on their way to the police station, Blevins gave the phone to her husband, who described the pickup truck Routh was driving, and said that there were two guns in the truck

"He was talking … kind of … babble," "He's recently diagnosed with PTSD … Post Traumatic Stress Disorder … and he's been acting a little weird from that. He just got out of the mental hospital, actually."

Blevins husband said Routh had been released from Green Oaks Psychiatric Hospital "about a week ago."
In addition,  according to Barricuda Brigade the Westboro Baptist Church cult plans to protest his funeral as well.I wouldn't doubt these loons show up at his funeral…though it doesn't state on this flier/press release they put out.
According to The Blaze, Chad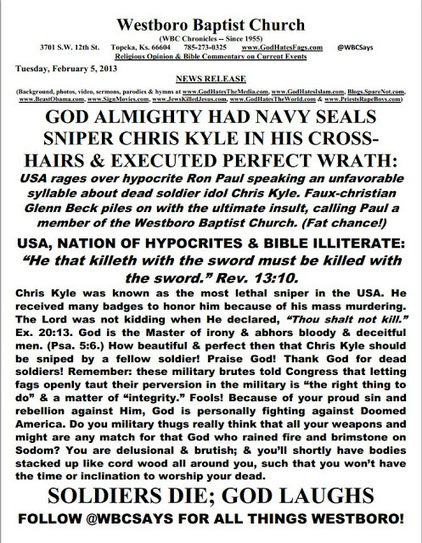 Littlefield, the workout buddy who was killed alongside Chris, was 35 and married to Leanne, an assistant principal at Walnut Grove Middle School, the Tribune reports.
The local Glen Rose Reporter says he's now being restrained to a chair in his cell. It also notes that he's been getting death threats.
According to RadarOnline, Routh had a run-in with authorities about a year ago for a DWI. ABC says Routh was stationed in both Afghanistan and Haiti.
After shooting both Kyle and Littlefield multiple times, Routh took off in Kyle's truck and fled to his sisters. He confessed to his sister that he had killed them and told her he 'traded his soul for a truck'. He then left and headed home where police had to pursue him during a short chase. Routh was then arrested about five hours after the incident.
Routh was charged with two counts of capital murder and his bond was set at $3 million.
He offered no confession or hint at a motive, police said. However, it seems his motive might have been stealing the truck, but also acting impulsively and irrationally due to his mental health.
Routh will be appointed an attorney, and will likely receive a lawyer experienced in handling capital cases.
Chris Kyle's memorial is scheduled at Cowboys Stadium Feb. 11.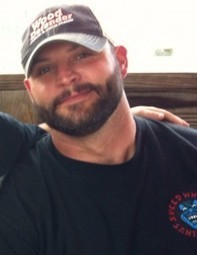 The funeral of Chad Littlefield,  will be held at First Baptist Church of Midlothian on Friday at 2 p.m., church officials confirmed.