Feb 2, 2013
Comments Off

on Killer Of Navy SEAL Sniper Chris Kyle Arrested – Photo
iResist
Thanks to a tip to PatDollard.com, we found what is now a confirmed picture of the killer of Navy Seal sniper Chris Kyle.
The apparent shooter is Eddie Ray Routh, 25, "a former Marine who is said to suffer from post-traumatic stress syndrome."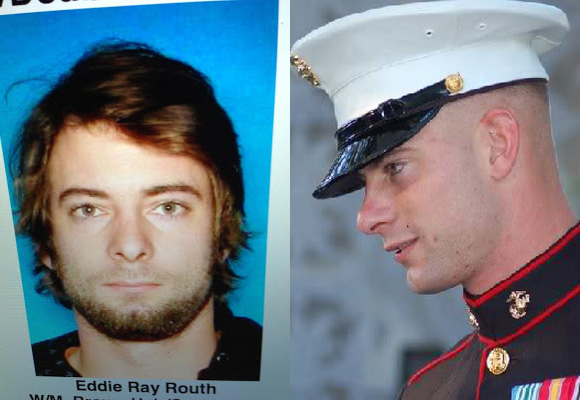 Related story: Navy SEAL Is World's Deadliest Sniper
WFAA – Chris Kyle, a former Navy SEAL who became known as the deadliest U.S. sniper was one of two men murdered on Saturday at a gun range in Erath County.
Three sources confirmed to News 8 that Kyle — who served in every major battle during Operation Iraqi Freedom — was among the shooting victims at Rough Creek Lodge, 53 miles southwest of Fort Worth.
Eddie Routh, 25, is in custody in connection with the shootings.
Investigators said Routh, a former Marine who is said to suffer from post-traumatic stress syndrome, is believed to have turned his weapon on Kyle and the second victim, killing them both at point-blank range.
An alert was issued for Routh, who was later captured after a short pursuit in Lancaster, south of Dallas.
Routh is believed to be highly trained with military experience
While serving in Iraq, insurgents placed a bounty on Kyle's head because of his lethal accuracy as a sniper. He recounted his experiences in "American Sniper," published last year. It details Kyle's sniper days killing insurgents from 1999 to 2009.
The book's cover refers to Kyle as "the most lethal sniper in U.S. military history," with 160 confirmed kills.
Kyle, 39, was born in Odessa, Texas and was using a rifle at the age of 8, according to his book.
He served four tours of duty in Iraq and was twice wounded by gunfire.
Kyle left the Navy in 2009 and was president of Craft International, which provides training to military and law enforcement professionals.
He was married and has two children.