Feb 22, 2013
Comments Off

on Half A Dozen Tanks Of Nuclear Waste Leaking In WA State
littlebytes
Via LBN Current Events: WA Gov met with Sec Chew&Dept of Energy confirms six tanks leaking radioactive waste at Hanford, 10 miles from Columbia River,no immediate risk;a week ago there was one tank leaking now there are six!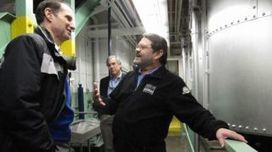 YAKIMA, Wash. –  Six underground tanks that hold a brew of radioactive and toxic waste at the nation's most contaminated nuclear site are leaking, Washington Gov. Jay Inslee announced Friday.The leaking tanks strike another blow to federal efforts to clean up south-central Washington's Hanford nuclear reservation, where any successes often are overshadowed by delays, budget overruns and technological challenges.
State officials just last week announced that one of Hanford's 177 underground tanks was leaking in the range of 150 to 300 gallons a year, posing a risk to groundwater and rivers. So far, nearby wells haven't detected higher radioactivity levels.
Inslee traveled to Washington, D.C., this week to discuss the problem with federal officials. He said Friday he learned during meetings that six tanks are leaking waste.
"We received very disturbing news today," the governor said. "I think that we are going to have a course of new action and that will be vigorously pursued in the next several weeks."
Inslee noted there are legal and ethical considerations to cleaning up the Hanford site, both at the state and national level. He also stressed the state would impose a "zero-tolerance" policy on leaking radioactive waste into the soil and insisted that the Department of Energy fully clean up the site.
The tanks already are long past their intended 20-year life span. They hold millions of gallons of a highly radioactive stew left from decades of plutonium production for nuclear weapons.
The leaking tanks were missed because graphs that monitor the waste levels were evaluated only over a short period, rather than a longer period that might have shown the levels changing, Inslee said.
Read more…