Feb 10, 2013
Comments Off

on Farewell to An American Hero a True Super Hero-Navy SEAL Chris Kyle RIP 4/8/74-2/2/13
littlebytes
May God bless Chris Kyle, his friend Chad Littlefield, and their family and friends during this difficult time.
Chris Kyle was an American Hero who served this country and others on the battlefield and here at home. We need more great men like him.
I hope his children never forget what a valiant and selfless person their dad was and how many people admired him from afar and now mourn with them for his loss.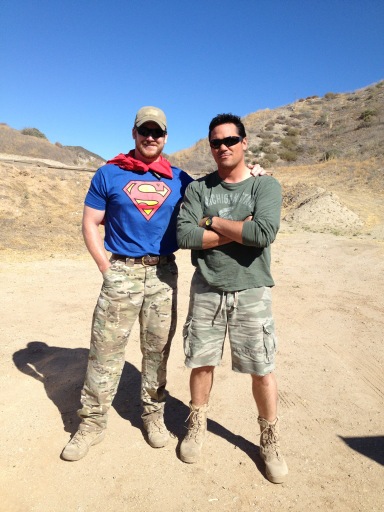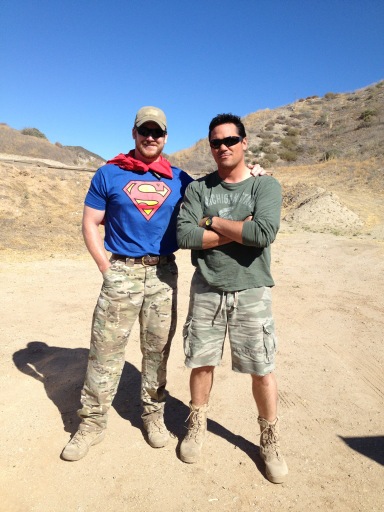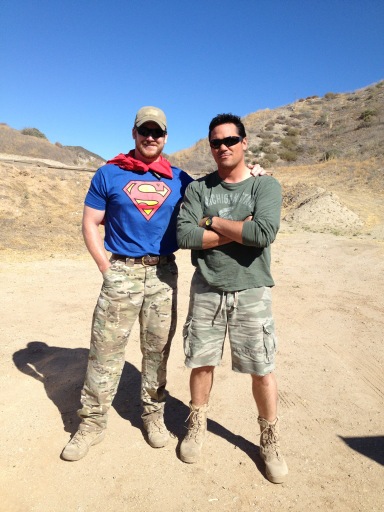 In an interview with Command Posts in March 2012, Chris Kyle shared much about his upbringing, military and family life, as well as his faith and patriotism:
A cowboy from north-central Texas, who worked ranches and became a professional rodeo saddle bronc rider, he was born and reared in the outdoors hunting and fishing, where he inculcated the traditional values of his rugged frontier ancestry—honor, courage, self-reliance, patriotism. . . From 2003 to 2009, through four combat tours in Iraq, he recorded the most confirmed sniper kills in United States history.
"I'm no hero," he maintained. "The reason I agreed to write American Sniper (his autobiography, written with Scott McEwen and Jim DeFelice) is to raise awareness for our guys in combat, to show the hardships they face and the sacrifices they and their families make. The real heroes are guys like Ryan Job and Marc Lee who gave everything for their country."
Job and Lee were fellow SEALs and Kyle's close friends. Lee died almost immediately of an enemy bullet while holding off an insurgent attack. Another bullet blinded Job in a separate battle. He survived, only to die several years later of complications from his wounds. Kyle was with both men when they were hit.
Kyle enlisted in the Navy in 1999 and went on through BUD/S training to become a SEAL. Certain types of men seem to gravitate toward high-risk outfits like Special Operations forces. Such men tend to be more individualistic, more self-assertive and confident.
"I think for the most part they are country boys who have grown up in the woods with weapons. I think it has to do with pride. I didn't want to be part of a unit going out and doing nothing but following orders. I wanted to have a little more impact on the war. It also has to do with pride in unit. Whether you're a Ranger, an SF (Special Forces) guy, a SEAL, there is a brother cohesion. You have another family."
Kyle has always been a shooter, starting with his first Daisy air rifle when he was a kid. In the SEALs, he hung around the sniper platoons, learning everything he could about the "silent craft." Eventually, his platoon chief recognized his abilities and nominated him for sniper school. The Navy now has its own school; previously, only the Army and Marines offered sniper training.
"It seemed like a natural for me. We're out there for a purpose—to save American lives. We're not out there looking for the credit."
His greatest cultural shock occurred after redeployment stateside following his first combat rotation.
"It seemed extremely awkward that we'd gone overseas where people were dying while life here went on as usual. There were still traffic jams and the same things on radio and TV. All we got in Iraq was CNN, and it was all about Americans protesting the war. That wasn't the true voice of Americans. I was a little discouraged at first. After being home, I saw how Americans honor and support our troops. That's when I began to understand that they're why we do what we do—so they can live their lives normally."
Kyle met his future wife Taya in California between deployments. Her dad had been a Marine during the Vietnam War era and she had been raised to respect the military. However, she had had an unpleasant encounter with a self-centered and obnoxious distant relative who wanted to be a SEAL but could not measure up. Because the relative had wanted to be a SEAL for selfish reasons, she jumped to the initial conclusion that all SEALs must therefore be selfish and self-centered.
"She told me I must be selfish. I came back with how could I be selfish when I'm willing to go overseas and die for my country? She changed her mind and called me a 'romantic' because I romanticized duty and honor and patriotism. She thought I was romanticizing everything about war and our country. I'm a realist, but I love my country, the United States of America. No matter who is president, this is still the greatest nation in the world. I'm extremely proud of it. I will fight to keep it free and great."
Kyle and Taya now have two children, a son, 7, and a daughter, 5. Taya refers to Kyle as one of the most genuine people she has ever known.
One of his favorite verses out of the Bible is Romans 13:4: For he is the minister of God to thee for good. But if those do that which is evil, be afraid; for he beareth not the sword in vain; for he is the minister of God, a revenger to execute wrath upon him that doeth evil.
"If a man doesn't stand up to evil, then evil will overcome and destroy."
Learn more about Chris Kyle…
Sadly, we lost an American hero on February 2, 2013, but his life will not be forgotten and his death will not be in vain.  May justice be served against the man who senselessly took his life, along with his friend Chad Littlefield and may their families find peace in their memories.
Chad Littlefield was laid to rest on Friday, February 8, 2013 in Midlothian, TX.
Chris Kyle's memorial is scheduled for Monday, February 11, 2013 at Cowboy Stadium in Arlington, TX. No cameras or purses will be allowed. He will be buried Tuesday at the Texas State Cemetery in Austin on Tuesday.
He was a real Super Hero!
Farewell Christopher Scott Kyle you may be gone, but NEVER forgotten!
Related:
Sniper Killer Eddie Routh Confessed:"He Couldn't Trust Them[Chris&Chad] So He Killed Them Before They Could Kill Him"
Michelle Obama Attends Funeral Of Teen Shot Dead In Chicago In Support of Gun Control Agenda;Obama Silent On Murder of War Hero SEAL Chris Kyle
Medal Of Honor Recipient Dakota Meyer Asks If Ron Paul Has Lost His Mind
911 Call Released-'American Sniper' Killer's Sister "Terrified" After He Confessed Killings
Funeral for gun range shooting victim Chad Littlefield set for Friday at Midlothian church
UPDATE: Ron Paul Now Blames America And Chris Kyle For Not Following Jesus's Teachings For Kyle Being Murdered
Rand Paul Issues Exclusive Statement To Breitbart News On Chris Kyle After Slander By Father
Motive? Chris Kyle's Killer "Traded His Soul For A New Truck"
Statement From Craft International About Founder Chris Kyle
Conspiracy?: Chris Kyle The Third High-Profile Firearms Business Owner Killed In Past Month, 33rd SEAL In Past Four Years
Mugshot Emerges As Chris Kyle's Murderer Formally Charged, Arraigned – Bail Set At $3 Million
Watch: Local News Coverage of Navy SEAL Sniper Chris Kyle Slaying
Watch: Murdered Navy SEAL Sniper Chris Kyle Spoke out Against Obama Gun Grab
Killer Of Navy SEAL Sniper Chris Kyle Arrested – Photo
Navy SEAL who Punched Jesse Ventura & author of the book "American Sniper" Killed
Soldier Hero From Powerful Pic Says He Would <b>"Do It All Over Again"
Navy SEAL Is World's Deadliest Sniper
See More at LBN