Feb 4, 2013
Comments Off
littlebytes
According to new reports, there may be a possible motive in the killing of Chris Kyle and Chad Littlefield, by former Iraq vet and Marine, Eddie Ray Routh.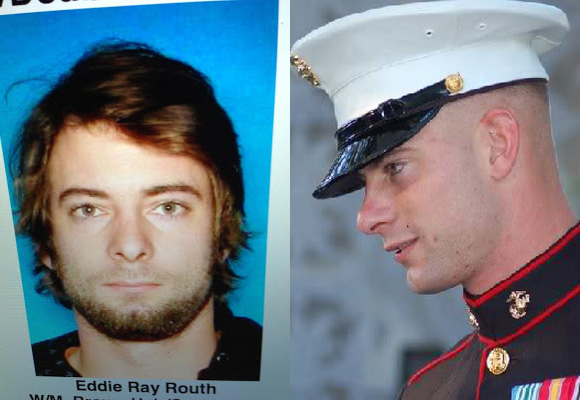 A leaked police affidavit says Routh admits: "the Iraq War veteran charged with killing a former Navy SEAL sniper and his friend on a Texas shooting range told a relative that he "traded his soul for a new truck.""
In addition, earlier news reports on Fox said it was unclear if Routh, the man who shot and killed SEALs hero Chris Kyle and his friend Chad Littlefield, had been officially diagnosed with PTSD by a doctor or whether he was on any medication or treatment. However, he was admitted to a mental hospital recently in the past month.
According to the Houston Chronicle Monday, Routh went back to the mental hospital in mid-January after a woman, earlier reports said was his girlfriend, called police because she feared he would harm himself.
"Eddie stated he was hurting and that his family does not understand what he has been through," the report said.

Routh's mother told police that her son had been drinking and became upset when his father said he was going to sell his gun. She said Routh began arguing with them and said he was going to "blow his brains out."

Police took Routh to Green Oaks Hospital for psychiatric care.

Dallas police records show Routh was taken back to the same mental hospital in mid-January after a woman called police and said she feared for Routh's safety.
It sounds like after being admitted to a mental hospital a couple times in the past four months someone would have been able to determine he was a danger to himself and others based on threats he made to kill his family or "blow his brains out." It sounds like he should  have been kept in the mental hospital for a longer period after having more than one incident which required his hospitalization.
I wonder if Chris Kyle was aware of Routh's time in the mental hospital and the threats he made to his family and to kill himself?
Why did they ever release him? Again, it seems we have a case of a breakdown in our mental health system and legal system after he had previously been reported for making threats to his family, to his girlfriend and threatening to kill himself.
I have a feeling Chris Kyle was not aware of these threats he made and how dangerous and mentally unstable Eddie Routh was. It also sounds like he didn't know Routh very long as a neighbor reported, Kyle pulled up asking him where Routh's home was the day he was shot and killed.
Elizondo said Kyle, wearing a camouflage cap, pulled up to his house in a large black Ford pickup about 12:30 p.m. Saturday and asked for Eddie Routh. Elizondo said he pointed to the modest beige single-story frame home a few doors down the road.
The CEO of Kyle's PTSD nonprofit said the shooting range event was not a FITCO session, where they work with PTSD, wounded vets and provide them in-home fitness equipment.
Travis Cox, director of FITCO Cares — the nonprofit that Kyle set up to give in-home fitness equipment to physically and emotionally wounded veterans — said he believes that Kyle and Littlefield were helping Routh work through PTSD.

Cox said Routh's mother may have asked Kyle to help her son, but Cox didn't know how Routh and Kyle knew each other. He said the shooting range event was not a FITCO session.
Unfortunately, Kyle must have thought he could help Routh and didn't realize the complexity of Routh's mental health and he let his guard down. As a precaution Kyle and Littlefield should have always had one of them watching Routh and not turned their back on him, especially while handling a deadly weapon.
I don't blame Kyle for trying to help and offer support and friendship to Routh, but I think he didn't realize the risk he was putting himself in because he was not made aware how mentally unstable Eddie Routh was. It also sounds like Kyle didn't know Routh very well or for very long, but learned of him through Routh's mother.
According to news reports, the mother of Eddie Routh knew Kyle and asked him to help her with her troubled son.
Jodi Leigh Routh, the suspect's mother, had reached out to Kyle to ask him to help her son, said Clint Burgess, a Tarrant County constable and Kyle's friend. Kyle did not know Eddie Routh, but knew his mother, Burgess said in an email from New Orleans.

"She was worried about her son and asked Chris if he could help him overcome PTSD (post-traumatic stress disorder)," Burgess said.
Sadly, instead of taking his own life, Eddie Routh killed two great Americans, one an American Legend and Hero, Chris Kyle an "American Sniper", the other his 'workout buddy' and neighbor Chad Littlefield.
Based on the affidavit it sounds like Eddie Routh knew what he was doing since he fled the scene, told his sister what he did and then went home and tried to escape police in the truck he stole. It also sounds like the unemployed former Iraq Marine vet, may have killed Chris Kyle because he wanted to steal his truck?!
What a tragedy and senseless reason to kill someone!! But I also believe his mental state had something to do with his poor decision making, as well as his economic situation, considering he was unemployed.
Did Routh think the truck would make him happy and make his life better? Now he is in jail, on suicide watch and will likely face the death penalty in Texas for the death of Chris Kyle and his friend, Chad Littlefield.
In the meantime, the country and Kyle's family and friends mourns the loss of a true American Hero and friend who took none of the royalties from his book, "American Sniper", or his appearances, but reached out to help others, like Routh, instead.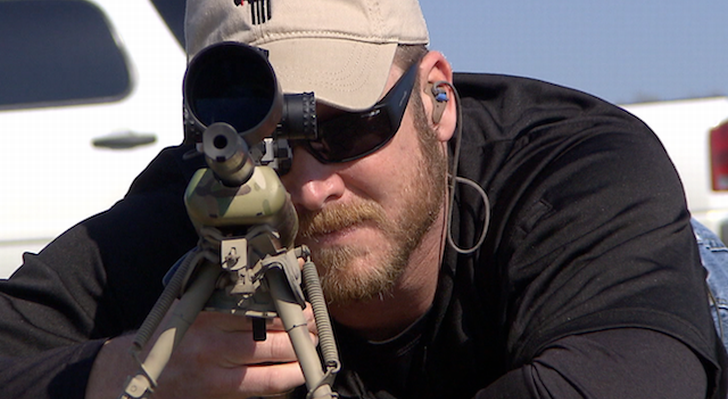 According to his publisher, William Morrow, and Jim DeFelice, who co-authored 'American Sniper',  "Kyle had a history of reaching out to disabled veterans. He said Kyle arranged outings to Texas ranches to show the vets that despite their injuries, they were still capable of having a life."
DeFelice said Kyle donated his royalties to the families of two Navy Seals, Marc Lee and Ryan Job, who fought alongside him in a 2006 battle that led to their deaths.

Sharyn Rosenblum, a spokeswoman for William Morrow, said 850,000 copies of the hardbound, paperback and e-book versions had been released. She declined to disclose actual sales. DeFelice said Kyle's royalties "amounted to a lot of money, a lot of money."

"Chris was a hero as much on the home front as on the battlefield, a man who dedicated his life in recent years to supporting veterans, and donated the proceeds of American Sniper to the families of his fallen friends," said Peter Hubbard, Morrow's executive editor.

"Chris would never keep any money for appearances or book signings. It all went to others," said Burgess, a Mansfield-based constable.

Burgess said he and Kyle planned to work security together at the Super Bowl on Sunday, but logistical issues prevented Kyle from traveling. He said his friend always wore a smile and enjoyed a good laugh.

Burgess said Kyle told him he planned to attend a police academy and start a career in law enforcement.

"He really wanted to be a cop and continue serving his country," Burgess said.
Kyle leaves behind his wife and two kids. Please keep them in your thoughts and prayers. His friend Chad also leaves behind a wife and children.
To donate to the Kyle family a fund is being set up through: http://americasmightywarriors.org  founded by Gold Star Mother, Debbie Lee, the mother of fallen SEAL Marc Alan Lee the first SEAL to lose his life in Iraq, during Operation Iraqi Freedom in March 2006.
Hopefully we will learn more about whether Routh was officially diagnosed or receiving treatment for PTSD, how long Kyle knew him or if this was their first outing/meeting and whether Routh was on any medication, or under the influence of any drugs.
In the meantime, Eddie Ray Routh, remains in jail and on suicide watch, according to recent news reports.
Routh, a member of the Marines Corps Reserve, appeared ready to assault jailers Sunday night when they entered his solitary confinement cell because he refused to return his food tray, Bryant said. After warnings, jailers used a stun gun once and then put Routh in a chair that restrains his arms and legs, Bryant said.

Bryant said Routh has an attorney but hasn't met with him at the jail in Stephenville, about 75 miles southwest of Fort Worth. Routh has not said anything to investigators, Bryant said.

Attempts by The Associated Press to reach Routh's mother and sister were unsuccessful Monday.

Sundae Hughes, an aunt of Routh's, said she watched him grow up but hasn't seen him since his high school graduation in 2006.

Hughes was in disbelief that her nephew could be involved in such an incident.
Learn more about Chris Kyle here and check back for updates here or at Little Bytes News Current Events:
Navy SEAL Chris Kyle Murdered in Texas–25yro Former Iraq Vet&Marine In Custody
Conspiracy? Chris Kyle The Third High Profile Firearms Business Owner Killed in Past Month, Along With Up To 33 Other SEALs The Past Four Years
Photo:Eddie Routh was captured in Lancaster in connection with two fatal shootings-One which killed Elite Navy SEAL Chris Kyle